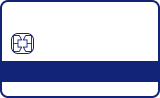 Secured Visa®
Service Benefits
24/7 U.S.-Based Customer Service
Our dedicated specialists are available 24/7 to assist you with any account questions.
Call the number on the back of your card.
Lost/Stolen Card Reporting
Our dedicated specialists are available 24/7 to assist you with a lost or stolen card. Call Cardmember Service immediately - available 24 hours a day.
Consumer cards: 1-800-558-3424
Business cards: 1-866-552-8855
International (Collect): 701-461-1556
Fraud Protection
Our sophisticated fraud-monitoring tools look for abnormal spending patterns. If we see something unusual, we move fast to help keep your card and account information safe. We provide zero fraud liability1 for unauthorized transactions. If you notice any charges you did not make, please notify us promptly by calling the number on the back of your card. Certain conditions and limitations may apply. Learn more
Emergency Card Replacement and Cash Disbursement
Our 24/7 worldwide service allows you to quickly and easily get a replacement card sent to you and/or receive emergency cash at a convenient location.
Call the number on the back of your card.
Contactless Payments
Pay with a tap. Use your card for contactless payments wherever you see the Contactless Symbol and your payment is processed in seconds. You enjoy the same chip security whether you tap or insert your card. Cards are embedded with a microchip that adds an additional layer of security. If a terminal is not yet contactless-enabled you can insert or swipe your card as usual. Learn more
Card Benefits
Travel
Roadside Dispatch®
Get emergency roadside assistance with services like towing, fuel delivery, and more by calling

1-800-847-2869

. Tell the operator where you are, what the problem is, and the operator will arrange a dispatch to a reliable tow operator or locksmith to provide help. The operator will let you know the name of the local tow operator or locksmith being sent to assist you. Cardmembers are responsible for any service fees. Certain terms, conditions, and exclusions may apply.2
Discounts and Special Access
ID Navigator Powered by NortonLifeLockTM
Tools to help you act quickly if your personal data is threatened
No one can prevent all identity theft, so staying informed and knowing what to do when your identity is threatened can provide you with greater peace of mind. ID Navigator Powered by NortonLifeLock provides you with the tools to help keep you informed of potential threats to your identity, so you can act quickly should the unexpected happen.3

To confirm eligibility, visit cardbenefitidprotect.com.
Visa Offers + Perks
Enjoy discounts at the places you love to shop. Indulge your passion and gain access to a wide variety of offers and deals, including food and wine, shopping, sports, entertainment and more.
Find your favorites at

visa.com/offers

.
© 2023  Elan Financial Services | Security Standards
The creditor and issuer of this card is Elan Financial Services, pursuant to a license from Visa U.S.A. Inc. or Mastercard International Incorporated.
Mastercard is a registered trademark, and the circles design is a trademark of Mastercard International Incorporated.
American Express is a federally registered service mark of American Express and is used by Elan Financial Services pursuant to license.
1
Elan Financial Services provides zero fraud liability for unauthorized transactions. Cardmember must notify Elan Financial Services promptly of any unauthorized use. Certain conditions and limitations may apply.
Return to Text
3
No one can prevent all cybercrime or all identity theft.
Return to Text
---
California Privacy Center
We use technologies, such as cookies, that gather information on our website. That information is used for a variety of purposes, such as to understand how visitors interact with our websites, or to serve advertisements on our websites or on other websites. The use of technologies, such as cookies, constitutes a 'share' or 'sale' of personal information under the California Privacy Rights Act. You can stop the use of certain third party tracking technologies that are not considered our service providers by clicking on "Opt-out" below or by broadcasting the global privacy control signal.
Note that due to technological limitations, if you visit our website from a different computer or device, or clear cookies on your browser that store your preferences, you will need to return to this screen to opt-out and/or rebroadcast the signal. You can find a description of the types of tracking technologies, and your options with respect to those technologies, by clicking "Learn more" below.