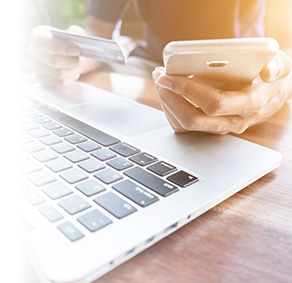 Mobile Security
Stay secure when you bank on your smartphone.
Tips to keep your smartphone safe
First, follow the recommended steps of your mobile service provider to report a lost or stolen phone.
You'll want to monitor your accounts for suspicious activity. If you notice anything that concerns you, call the Cardmember Service number on the back of your card.
Put a password on your phone. If possible, use a longer password than the default 4-digit unlock code.
Do not share your password with anyone else.
Set your phone to automatically lock after being idle for a set amount of time.
For even better security, set your phone to erase all data after 10 bad password attempts.
Install software updates on your mobile devices. If your smartphone operating system offers automatic updates, enable them. Maintain anti-virus software to protect against new viruses.
Delete text messages from financial institutions, especially before sharing, discarding, or selling your phone.
If you visit myaccountaccess.com using your phone, delete the cookies and cache regularly.
Better yet, use our mobile app for account access. Download the Elan mobile app now
Criminals try to lure people into signing up for mobile banking using fake apps and websites.
Always visit the myaccountaccess.com mobile app site to verify the sources of and to download our dedicated apps for account access.
Phishers create links that look legitimate but instead direct you to malicious websites when you select them. Due to the small screen size in smartphones, it's even harder to spot whether a link is legitimate. If you need to access a website, type in the address yourself.
You may have heard that "jailbreaking" your device—that is, removing restrictions off your device to install unauthorized software or to customize its features—is a good idea because it allows you to use the device beyond the manufacturer's limitations. However, jailbreaking comes with risks. By jailbreaking your device, you remove the security restrictions enacted by the manufacturer which helps to keep your data safe.
Don't rely on carriers, recycling firms or phone deposit banks to "clean" your phone before disposal or resale to third parties.
Follow your phone's manufacturer's instructions to remove all personal information from your phone before decommissioning it.
Complimentary Wi-Fi access is frequently available these days. Although a nice service, unsecured networks may allow hackers to distribute malicious code to your devices or even intercept your personal details.
Don't turn your Wi-Fi on if you don't actually need to use it. Even if you're not actively using the Internet (i.e. logging on to websites, submitting payment, etc.), your information can still be compromised while connected to public networks.
Turn off "Auto-connect" in your settings so that your Wi-Fi does not automatically search for an open network to connect to.
For an added layer of protection, enable the "Always use HTTPS" option often available on websites that require logging in.